Wizard and Glass – Stephen King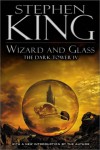 What an awesome book! Wizard and Glass is the fourth installment of the Dark Tower series and deals, primarily, with an event in the childhood of Roland of Gilead. Not much point in saying any more than that because those familiar with the Dark Tower will already know, and those who aren't really should read The Gunslinger first.
So, on the advice of my big sis, I am going to persist with the rest of Aftermath.
Edit Life is just too short. One more chapter. Miserable characters, depressing plot. I like dark, I just don't like gloomy 🙂