Twilight Saga – Stephenie Meyer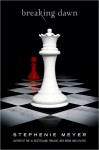 I make no apologies. I really enjoyed these books. I'm also glad I decided to split my mini-reviews as well, although I should have just covered all four at once. So, we know the plot – human girl meets vampire boy, romance ensues, strife arises and is resolved. The End. As far as the plot goes, stretching fairly elegantly over the four volumes, it's all very entertaining. I only really have two issues.
The central two books are, well, bleak. Like really bleak. Even as a 38 year old bloke, I found myself surprisingly affected by the wringer that the central characters get put through – god knows what the teenagers of the target audience make of it.
Which, I guess, brings me to my second issue. The relationships in these books give me some cause for concern – not the moral or cross-species aspects, but the utter selfless perfection of them. People just don't behave the way these characters do. This is fine – I'm an adult and I can see that. Thing is, a youngster discovering their first taste of romance through these novels just might use those relationships as the yardstick to measure their own stumbling first steps and – trust me on this – may be bitterley disappointed.
But hey – it's fantasy and I'm an old fuddy duddy.
I will finish on a high-note. After the depressing middle section, the final book really ups the tempo and even delivers quite a few laughs along the way. Ok, there's an utterley ludicrous deus ex machina in there, but who cares – it's no worse than Harry bloody Potter in that regard 🙂