Twilight – Stephenie Meyer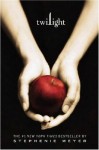 OMG I'm like SO TOTALLY emo! Ahem. Alright, so this is clearly written specifically for confused young girls, but really – it's extremely likeable. Yeah, so you have to keep wringing it out to get rid of the dripping angst, the whole thing is utterley implausable, and there are plot gaps you could drive Saturn through, but it's still a really enjoyable, straightforward, and not at all sinister book.
In which nothing actually happens. But still…..
9/10 I reckon.