Enemy of God – Bernard Cornwell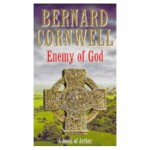 My recently awakened inner teenager has been effectively slapped down by a quick and brutal application of mud, steel, mud, murder, mud, betrayal, mud, sinister priests, mud, torture and mud.
Once again, Mr Cornwell's prose lurches between exhilirating drama and tedious history lectures, but to a lesser degree than in Winter King. In other words, this one isn't quite so much work and the author of Sharpe shows through quite clearly.