Paper Mario (Wii VC)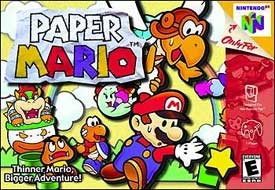 So I'm attempting to finish some games that kinda fell by the wayside after The Great Falling Out Of '09, and Paper Mario came top of the list. One thing I discovered along the way is that Wii Virtual Console purchases aren't tied to your Nintendo account, they're tied to the hardware. This means that, shiny new Wii or not, any VC purchases you've made need to be purchased again. Nintendo, bless them, did say that if your hardware dies at any time (even out of warranty) they'll transfer all the purchases over for you. Seems a bit primitive for this day and age, but anyway – I digress.
So, I managed to play about 15 minutes of this last night, but that was just enough time to see that cad, Bowser, kidnapping Princess Peach – AGAIN! Honestly, the man / turtle / thing really needs to get a girlfriend.