The Horse Whisperer (1998)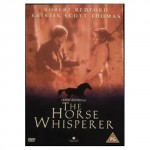 M'okay, overbearing workaholic mum takes extremely traumatised daughter and her equally traumatised horse to see Robert Redford. Redford is, apparently, a horse whisperer and is able to settle and calm the most disturbed of beasts. Presumably, it's the horse he's to look after, and not the daughter.
Anyway, horse is healed, daughter is healed, workaholic mum is healed – romance ensues. Except she is, of course, already married. Confusion ensues. Then they all, quite inexplicably, go home.
6/10.