Jason and the Argonauts (1963)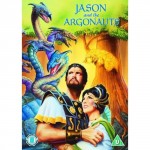 You really can't beat a good 50s/60s "Swords and Sandals" epic, can you? Everything's brightly coloured, the enemies are evil beyond belief, the heroes are manly beardy and the girlies swoon and flutter like swoony-fluttery things! And then there's the awesome Harryhausen creations – in Jason we have a giant bronze statue, harpies, a hydra, and a whole squad of fighting skellingtons. Just awesome.
Who cares if it makes sense? Who cares if Jason's gang actually are a bunch of god-sanctioned thieves. It's ACE!
8/10