Server Abuse
I've just had a server returned by a client. Apparently it keeps overheating and dying. It's a 1u box and they swear blind they've left a ventilation gap and have aircon in the server room. So, I popped the lid and had a look.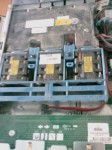 The first thing that struck me was the amount of muck, crap and dust inside the box. The fans were so full of nasty sticky gungey fluff that they refused to turn. That certainly explains the overheating. I suspect that the server may have been stored in a chicken coop rather than a server room.
Given that I had the top off it to give it a good clean, I reckoned it was only sensible to have a good poke around the thing to make sure there wasn't any glaring damage. Fairly quickly, I spotted a few places where the temperature had got high enough to cos some solder joints to leak flux. Not a good sign.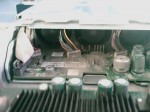 Then I saw this. A couple of pins on an interface point which had been bent over so extremely that they were shorting out. "Hmm," thought I, "that's not a Good Thing." Question is, how in god's name did they get in there to bend the pins? The top panel at this point is actually rivetted in…. ah. The rivets have been drilled out on the side of the casing. 
Anyway, at this point I pulled out the vacuum cleaner in order to give it a good hoovering out. Half an hour of intensive disassembly and cleaning and all the fans on the mainboard were functional. The fan at the front of the power supply assembly were not. So, slid the power supply out and squinted in the back of the box. Dear oh dear – it's not looking good for you, mister server. I have only one option left open to me: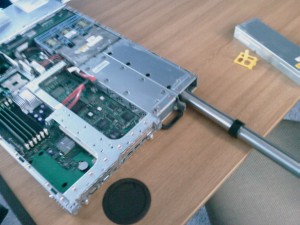 The Anal Probe…..
I really dread to think what google search strings are going to appear in my web stats next month.