Phantasy Star Universe (360)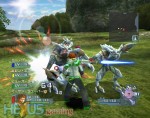 Been stuck at the mid-level boss fight with Butthead, Elvis, and Barf, for about six months – not because it's especially difficult, but because I hadn't levelled sufficiently before entering the mission. Once in there, of course, it's win or game over. No backing out. Anyway, I worked out a technique this afternoon, that enabled me to beat them, but was left with such a small amount of health that the bug swarm immediately afterwards ganked me, making me do it all over again. Honestly, Sonic Team, there are such a thing as save points you know.
Anyhoo, Chapter 6 is finally complete and I've learned my lesson – time to get levelling in earnest before continuing story mode. Don't know what I was thinking – I'd never have done anything so daft in a final fantasy game (or I'd have at least kept more than one save).