The FAIL bot.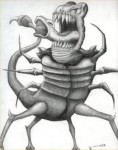 There are times when you just have to do things the hard way. For example, on finding a bug in a piece of software deployed to thirty-odd client systems, it would generally be considered a good idea to connect to those systems, ascertain whether or not said system was affected, and then patch and test as required.
That would be a good way to do it.
The FAIL bot would not be a good way to do it.
What the FAIL bot does is connect to all client machines, have a cursory glance around, and then blatt a big wad of binary FAIL onto the system, whether it needs updating or not.
I wonder which approach we'll go for….