Jetset Willy for Macintosh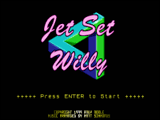 This is a Macintosh port of Andy Noble's magnificent remake of Jetset Willy. This game is completely free, but please don't cover mount it without permission. Requires OS X.
Incidentally – I'm skint. Please consider making a donation of 5USD using the button below. You don't have to, but it would help towards bandwidth costs and probably give you a little bit of positive karma.