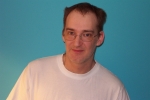 Who knew? It occurs to me that it's been a very long time since I posted anything that wasn't to do with video games and it's just wrong for nelefans to be unaware of all the wondrous things happening at Nelefa Towers. So here goes. We returned to Scotland from Australia in early January. Australia is a beautiful place, but I wouldn't want to live there permanently. We're too attached to our wind and rain

We also like old stuff, and if there's one thing Australia doesn't have it's old crumbliness. We've had a fantastic time and enjoyed experiencing a different culture, but we're just too set in our ways to be adaptable.
We've moved to a different part of Scotland now, to be closer to our families and – well, you know – to get a bit of variety. Sometimes you have to go away to appreciate what you have at home and that's what we're doing now – appreciating.
So we got a holiday! No way! A very long one! Not only that, but we enjoyed it so much that we're going to have MORE holidays! "What madness is this?" you cry – "holidays cost money and therefore prevent game purchasing!" Well, that's as maybe, but I buy more games than I have time to play anyway, so it's time to reign back a little and spend some time getting to know a country I didn't know I loved until I left.