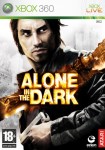 I wonder what was going through the developers' heads when they were designing this game. After playing last night, I sat musing for a while, and I reckon the developer meetings must have sounded something like this:
"Hey, I have an idea! Let's liberally spread instant death situations all over the place so that the only way to get through an area is by trial and error and memorizing hazards the can't be seen before hand!"
"Nah, that wouldn't be very fair. People would get really annoyed by having to go back to the save point."
"No, we'll not make them go all the way back. We'll just put them back a minute or so, so it's not a long haul. That way we can make them do the same thing over and over and over again and still have clear consciences."
"Hrm, ok. But only if we can liberally scatter really really stupid obscure object puzzles around, just so we can show off the physics engine."
"Ok, deal!"
I suspect Alone in the Dark will be getting traded in very soon.