Chicken Sneaka Masala part 1: Marinade
May 3rd, 2010
Posted in Noms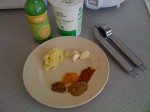 This is a pretty standard 'tikka' style marinade. There's nothing clever about it and it's been nicked wholesale from just about every Indian cookery book I've ever seen. It is, however, going to give a bit of flavour for my soon-to-be-produced Sneaka Masala, so I'm including it here for completeness. As ever, getting everything laid out before hand helps.
1″ (ish) block of ginger, finely grated
3 cloves of garlic, crushed
2 tbsp lemon juice (notice I'm cheating and using bottled lemon juice – this is because I go through a LOT of it )
2 tsp ground cumin (seems like a lot, but then it has a lot of sourness from the lemon juice and yoghurt to work against)
1/2 tsp chilli powder – or according to taste. I tend to use hot chilli powder of cayenne, but that's just me
1/2 tsp garam masala
80 ml natural yoghurt
1/2 tsp turmeric
1 tbsp tomato puree (bear in mind that most stuff you get in the shops is double concentrated, so remember to half the amount).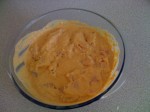 Nothing really to say about the method because it really is just a matter of bunging it all together and mixing it. What I would say, though, is put everything in except the yoghurt and mix it well, *then* add the yoghurt – a bit at a time – stirring constantly. The yoghurt is just desperate to curdle when it hits the lemon juice.
Once that's done, just spoon it over your chicken and mix well – making sure all the chicken is coated. Theoretically, it only needs 4 hours to marinade, but you'll get much better results if it's left overnight. You'll obviously want to cover it and stick it in the fridge for the duration.